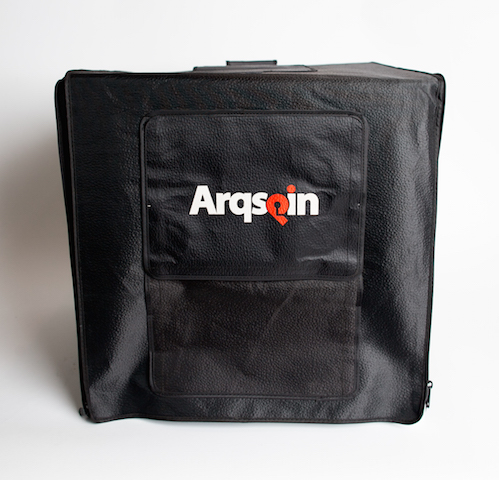 Introducing the Arqbox Light Tent
Professional quality photos all have one thing in common – excellent lighting. We have talked many times about the importance of proper lighting when photographing products or creating spins, and are now happy to offer the Arqbox- a portable LED light tent for product photography.
The Arqbox light tent is available in two sizes: the Arqbox 16, which offers a 15.5" interior, and the Arqbox 24, which offers a 23.5" interior. They work perfectly with our 9" and 12" Arqspin turntables, allowing for professional quality 360° photography. Both lighting and background are crucial to good product photography and to good 360 degree spins. Here you can see two spins of the same object, one created using our light tent and one without:
Without Arqbox

With Arqbox

Backdrops
Busy backgrounds can take the focus away from your product. Though natural spins can be effective, most e-commerce sites showcase products on a completely white or other neutral background. The Arqbox is perfect for creating this effect in your 360 degree images. Our light tent comes with white, black and beige backdrops that can easily be clipped into place, allowing you to achieve different stylistic effects or enhance the colors of your objects.  The black backdrop and white backdrop integrate well with our advanced editing tools.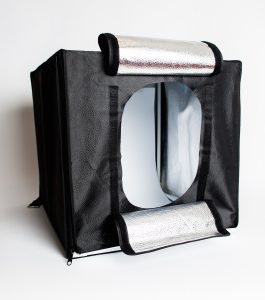 LEDs
The most important feature of the Arqbox is the lighting. The tent diffuses light and eliminates color cast from nearby walls, objects and other light sources. It features two strips of flicker-free, daylight balanced LEDs. These provide consistent, shadowless lighting. The LED color corrected (5500k + or -200k) light source brings out the true colors of your object, and makes capturing difficult objects like jewelry and other reflective items much easier.  
LED bulbs give off much less heat than traditional studio lighting. This makes them optimal for food photography or for capturing other products that may be sensitive to heat. LED bulbs are low energy and long lasting, which eliminates the need for frequent bulb replacements. Our light tent features a highly reflective interior to ensure uniform lighting, enhance highlights and shadows and create greater depth in your spins.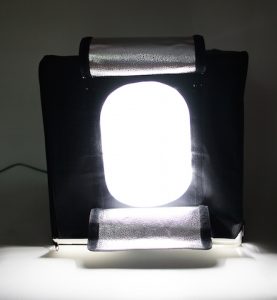 Convenience
The Arqbox light tent for product photography is portable, and comes with a convenient case for easy transport and storage. It can easily be set up and taken down, which allows you to create professional quality spins almost anywhere.
Purchase the Arqbox and enjoy a free month of Arqspin software!