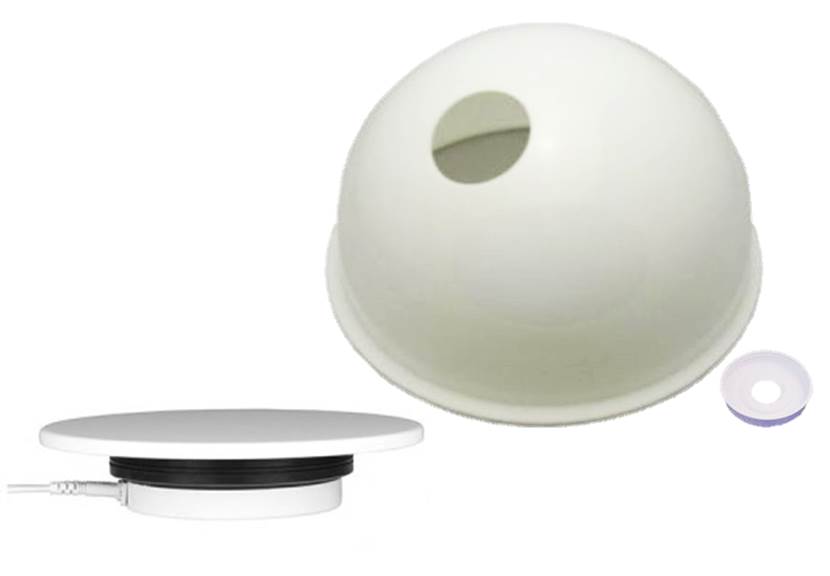 Our next giveaway is a joint giveaway with our friends at OverDome. Win an OverDome light diffusing enclosure with a smartphone/tablet adapter AND an Arqspin 9'' turntable.
The winner will receive an OverDome 2.5 inch aperture, mid-angle model with an adapter for use with smartphones or tablets. The OverDome is a translucent white acrylic enclosure that converts any lighting to uniform lighting, minimizing unwanted shadows, reflections and glare for close-up photography. It's great for jewelry, collectors items, or anything that's difficult to light—like white or shiny objects. The OverDome works with ambient indoor lighting, directional lighting fixtures, or even sunlight.
Our 9'' Arqspin turntable fits perfectly with the OverDome, giving you the ultimate 360 photography setup. It can handle up to 25 pounds. An OverDome and Arqspin photography studio is great for beginner photographers, too!

To be eligible to win our OverDome and Arqspin turntable giveaway, you must like, share, AND comment on our giveaway post on Facebook. The winner will be announced on Wednesday, September 16 at noon EST on our Facebook page.