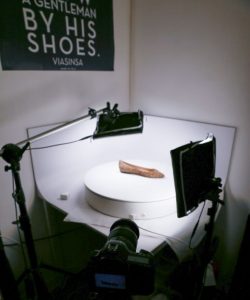 VIAJIYU is a luxury shoe company that allows women to design their own shoes, and have them handcrafted by some of the finest shoemakers in Italy. Based out of Florence, they feature 16 different styles of shoes, each of which can be constructed in a seemingly endless array of exquisite leathers, suedes, fabrics and embellishments. VIAJIYU was founded by Nicole Still three years ago with the belief that women should take the road less traveled. They firmly believe in the #nohighheels movement, and pride themselves on offering both comfort and one-of-a-kind style to their customers. They use Arqspin software to capture interactive 360 views of each of the custom shoes they make, and then use that gallery to provide inspiration as customers embark on their made-to-order journey.
I spoke with Nicole to learn how they incorporate Arqspin 360 interactive photography software into their business model and provide their customers with the ultimate shoe shopping experience. Capturing every every shoe with Arqspin gives them a unique gallery of their bespoke creations. Though they do sell some ready-to-wear shoes out of their flagship store in Florence, Italy, over 80% of VIAJIYU's business comes from their made-to-order shoes.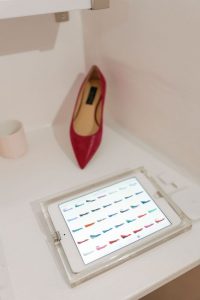 It is this emphasis on the custom-made that created a need for 360 visualization of their products. Because VIAJIYU specializes in bespoke pieces, the customer doesn't always walk into their appointment knowing exactly what they want or which accents are available. Nicole says that often customers will have a color or shoe style in mind when beginning the design process, but may need some extra inspiration when it comes to materials and adornments. This is where Arqspin comes in. VIAJIYU has 8 iPads in their Florence boutique, loaded with spins of shoes that they have crafted. Team members are able to quickly pull up spins of specific styles and colors to show clients how different features look or how colors go together. Because they create a spin of every shoe they craft, their inspiration gallery is always expanding. To date they have created over 3,500 spins!
Nicole loves how easy Arqspin is to learn and to use, both when capturing spins and in the editing process. VIAJIYU has two studios where they create spins using Arqspin turntables and DSLR cameras. One of these studios is located inside the Florence boutique, while the other is nestled above their first factory. They have a dedicated team that spins each and every shoe they create.  Their photography staff spins and photographs the shoes, and students use Arqspin editing software to perfect each spin for their inspiration gallery. Interactive 360 views allow clients to get a much better feel for the details of their custom piece, and helps give them the confidence to take the plunge.
See Arqspin software in action at VIAJIYU's flagship store in Florence, Italy or at one of their #trailblazer trunkshows. For information on how to incorporate Arqspin software into your business, contact us or check out our software plans.