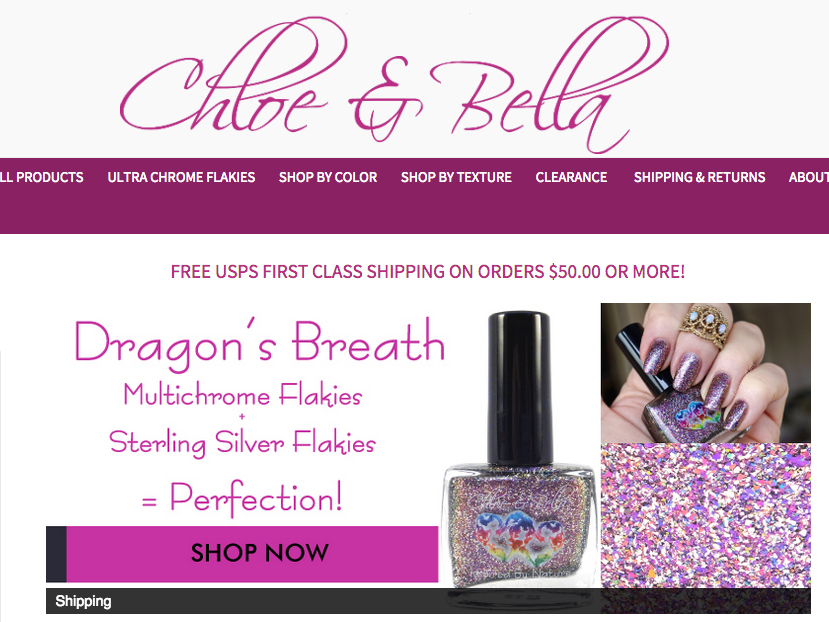 Chloe & Bella is a handcrafted nail polish company based in Orlando Florida, that owner Barbara L'Homme says "is all about beauty!"
Barbara started the company in early 2014 to fulfill her desire to be creative. She is the sole owner of Chloe & Bella, which means that she does everything from sourcing ingredients, to designing and creating the final products, to marketing and selling the products.
"I have another 9 to 5 job that pays the bills while I grow the online business, but that job does not fulfill my creative side," says Barbara. "That is why I decided to start Chloe & Bella—to be able to do something that I LOVE to do!"
Besides nail polish, Barbara is currently experimenting with several handcrafted beauty products, like soap recipes, and hopes to add them to her online store in the near future.
"Of course, when I do add them to the website, there will be 360-degree spins of them!," she says.
Chloe & Bella's customers are primarily females between the ages of 24 to 40 years old and are heavy social media users, which is where the vast majority of Chloe & Bella marketing is done.
One of Chloe & Bella's nail polish spins
"My customers become like friends, as we form a close bond over our shared love of nail polish," says Barbara. "Really! The indie nail polish community is a close-knit group of women who all share a passion for new and unique polishes."
Barbara has been using Arqspin on Chloe & Bella's website since the first day the site was open to the public.
"Arqspin is incredibly easy to use. I purchased a turntable, which in my opinion is a must-have for creating high-quality spins," says Barbara. "It takes me less than 10 minutes from the time I start creating the spin to the time I can post it on my website."
Barbara says her customers love the 360 views because they feel that it gives them a three dimensional view of the product that they would not otherwise be able to see before they purchase.
"I rely heavily on the Arqspin spinners to showcase my polishes," says Barbara.