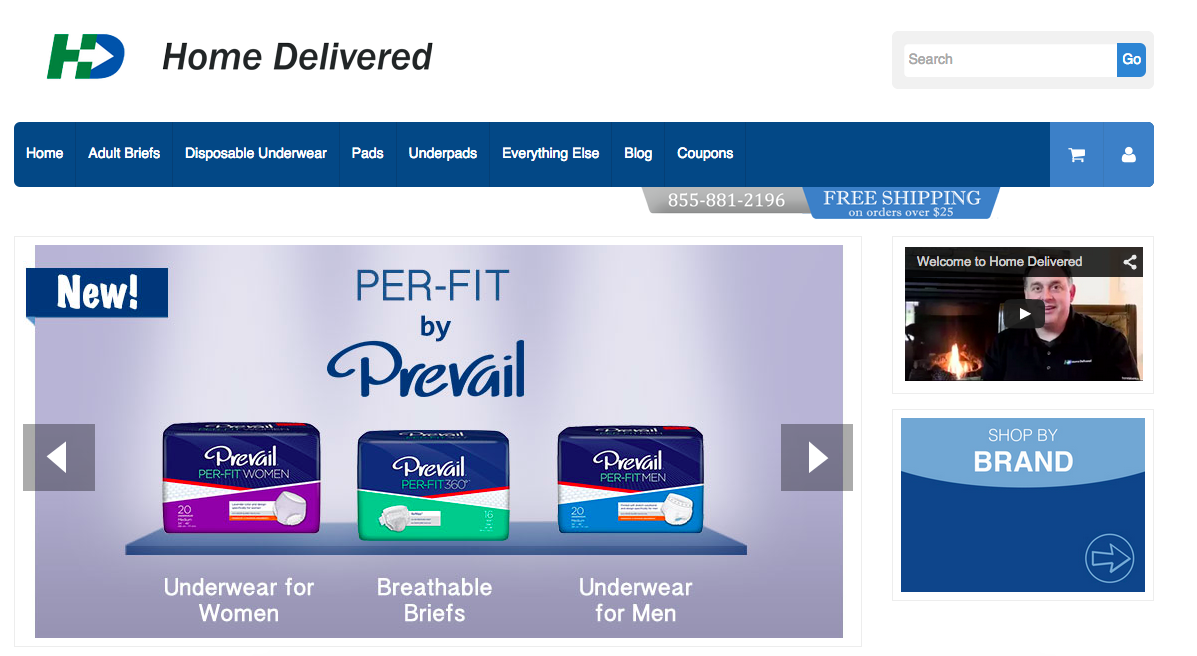 Home Delivered has sold adult incontinence products for over 25 years. The Michigan-based family business delivers its products all over the United States, usually within 1-2 business days.
Andrew Kline, whose father owns the company, is the director of marketing for Home Delivered and says they've been using Arqspin on their website for a little over a year.
What sets Home Delivered apart from competition, besides its website, is its large range of adult incontinence products compared to other retailers.
"Our easy online ordering and fast shipping are good reasons to buy from us, but what makes buying from Home Delivered better than buying incontinence products from a retail store is our huge selection," says Andrew. "Buying from Wal-Mart, you can get Depend, Poise, or the generic brand (Depend and Poise are the same company). These products can usually manage light incontinence easily, but often fail when used with heavy incontinence."
Andrew says that Home Delivered has products available for every level of incontinence, in every style, and every size. Their customers are mostly women age 35 and above, who are often buying products for their parents, but sometimes for themselves.
A spin of incontinence briefs by Home Delivered

Since the nature of Home Delivered's business is discreet, 360 product views are a great way for customers to see the products they need without having to go to a store or ask many questions. They can see all angles of the product online, usually displayed on a mannequin.
"We get great feedback when we show our spins to potential customers," says Andrew. "But the nature of our business means we don't get a lot of feedback of any kind."
Implementing Arqspin into their website has been an easy process, and Andrew says he can shoot, edit, export, and upload a spin in 10-15 minutes.
"Most people just have pictures of the packaging, which doesn't tell you what it actually looks like," says Andrew. "We love having the spins on our site, it really differentiates us from our competition."
Do you sell discreet products? Contact us to find out more about how Arqspin can help you feature your items.