Dublin, Ohio-based 3NINES specializes in statement jewelry made with rare earth elements. Husband and wife team Bartholomew and Vanessa Boeckenstedt launched the business about a year ago, with Bartholomew manning the product photography, spins, and website, and Vanessa taking charge of the designs and art behind their pieces.
When they aren't working away on 3NINES, the creative types dive into artistic and design projects, and sometimes donate their time and jewelry to raise awareness for various causes.
"3NINES is my wife's jewelry company. She really has a passion and knack for it and it is one of her dreams to be designing and selling her own jewelry," says Bartholomew.
Their jewelry is made with rare elements like amber, turquoise, and amethyst.
iframe src="https://dfdo2n9cwdl7u.cloudfront.net/iframe.html?spin=cdjw5e42vbzc&is=-0.16&ms=0.16&d=1" width="450" height="450" frameborder="0" scrolling="no">
A necklace made by 3NINES

"We also cut and fire our own glass pendants and wrap them in pure silver and occasionally dabble in leather as a medium as well," says Bartholomew. "Vanessa is quite talented and has had her designs gifted at the Golden Globes & Grammy's this year, and she recently made a matching pair of necklaces for Duchess Kate Middleton and her newborn daughter Charlotte."
The name 3NINES is derived from the standard of purity that is found on the back of pure gold and silver bars, stamped with ".999," which Bartholomew says "is the highest purity possible!"
They define their customers as unique men and women who have an appreciation for extremely high-quality jewelry.
"Whether they are buying a piece for their significant other as a gift, or for themselves, we offer something that nobody else provides," says Bartholomew. "They want something that is specific to their tastes that is high-quality and durable and that no one else has."
3NINES has been using Arqspin on its website for almost a year, and Bartholomew says that it's very easy to use. It takes him under 5 minutes to create and upload a spin.
His photography setup includes a Canon EOS Rebel T4i camera with a standard EFS 18-55mm lens, a softbox lighting kit, Westcott muslin backdrops mounted to Varipole stands, and a 12" Arqspin turntable. Bartholomew sets up the turntable on a standard folding table after he's draped the backdrop over it. He also keeps the lighting fairly close and shoots at a low depth-of-field so the background is blurred.
"Something unique that I've done is build some circular templates that I can just put on top of my turntable," says Bartholomew. "I used a circular jig and a router to cut a 12 inch circle and fix a perfectly centered mounting point for whatever piece of jewelry I will be making a spin of. I have a necklace jig, a bracelet jig, and an earring jig. It saves me lots of time and is perfect every time!"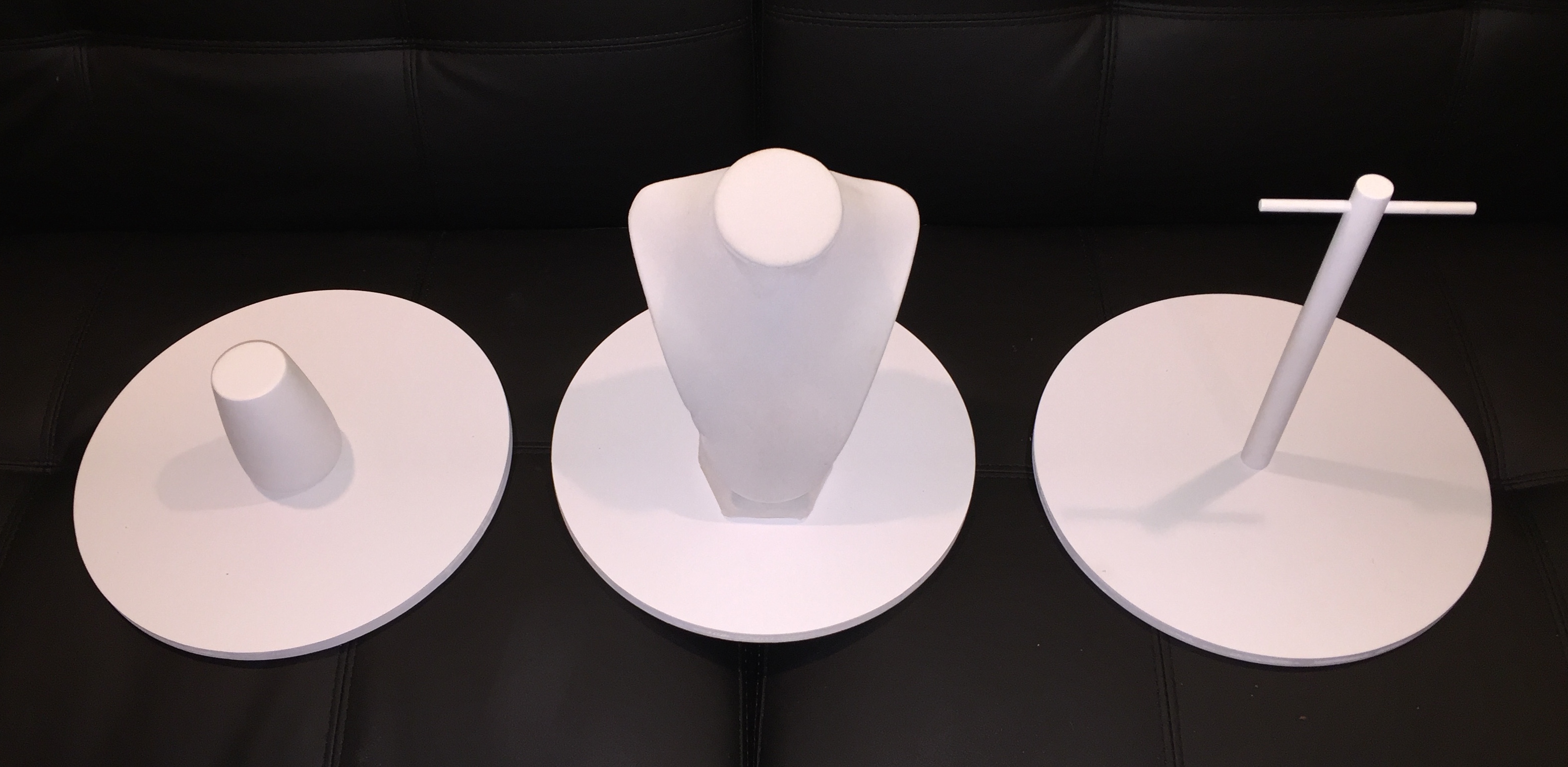 Bartholomew's jewelry jigs

Arqspin has helped 3NINES give customers a more intuitive look at its products.
"Customers love our spins and think it is so cool that they can swipe and get a view from all angles," says Bartholomew. "We haven't had ANY returns to date!"
Since becoming an Arqspin user, 3NINES has switched around from several different plans to find the right one, and ultimately decided to go with our lifetime plan and hosting.
"It's worth it to us, as we have other businesses that we will integrate this technology with down the road. Plus, we never have to worry about paying a monthly payment again," says Bartholomew. "The lifetime plan just made sense and we love what it does for our business."
Think a lifetime plan might be right for you and want to learn more? Email [email protected].