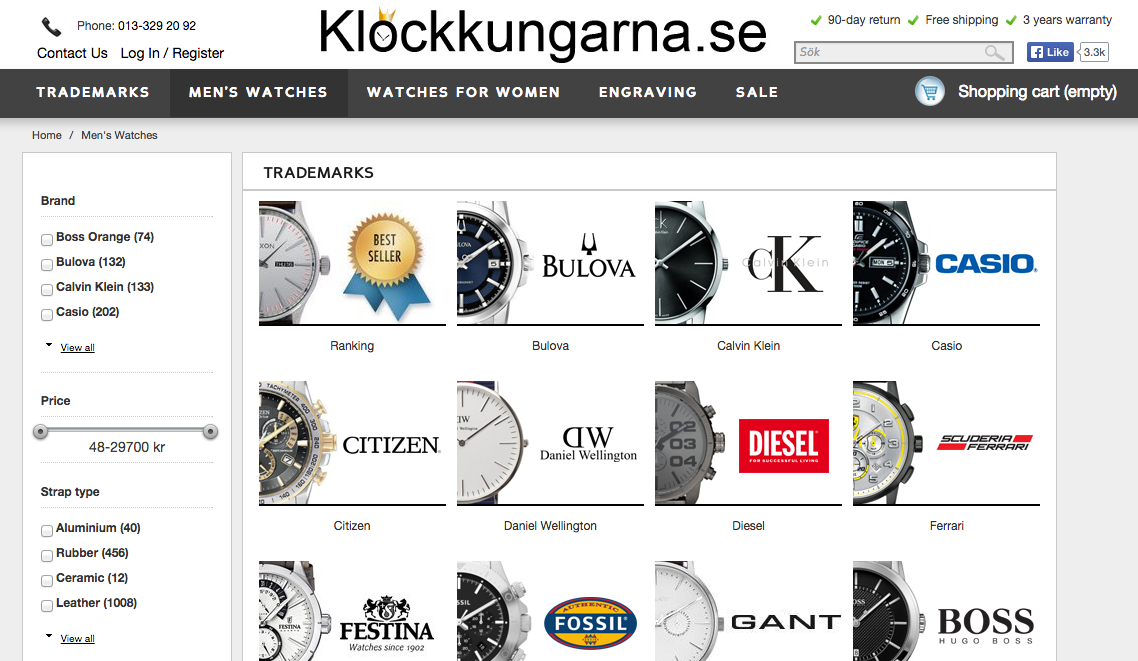 Pelle Pettersson is the CEO of Klockkungarna, an online watch retailer based in Linköping, Sweden. Since starting the business in 2011, Pelle calls it a "fairytale story," because the company has grown so quickly each year since.
When he's not running his business, Pelle likes to spend time keeping his mind and body in shape. "I work a lot, therefore I try to train and keep my mind calm as often as possible," he says. "I also enjoy playing my guitar at night, even if I'm not the next Justin Bieber."
Klockkungarna sells to all of Europe, but its main market is in Sweden, Norway, Finland and Denmark. Their customers are usually looking for the hottest or newest collection of designer watches at a low price, and many are returning customers that buy from them year after year. Brands you can find on Klockkungarna include Seiko, Michael Kors, and Citizen.
A 360 spin of a Daniel Wellington watch created by Klockkungarna
Pelle says they've tried a lot of tools to improve and increase business, including another type of 360 integration that was both slower and more expensive. Klockkungarna began to implement Arqspin 360 views into its website a few months ago. Pelle says that because they have so many products on their shop, it's important that the spin process is fast.
"This is something that Arqspin does for us," he says. "It normally takes maximum 1 minute to make a spin, add a name and upload it." If they choose to edit a spin, it still only takes about 2 minutes to complete the process.
So far, Pelle has gotten positive feedback from customers, who tell him how nice the spins look.
"We increased conversion and get less returns," says Pelle. "It's a positive experience so far using Arqspin."
Want to use 360 spins on your e-commerce site to increase conversion rates? Contact us for more information or join us today!