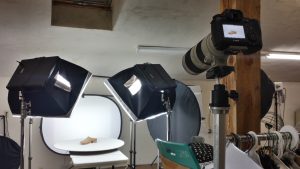 Overland is a small family owned business based out of Fairfield, Iowa. It was founded by Jim Leahy, who hand-crafted beautiful, high-quality sheepskin coats, hats, mittens, and slippers- cutting and stitching everything himself. He set up the first Overland store in a small shop near the Rio Grande Valley. Jim's popularity grew rapidly, and he employed local Taos artisans to help him craft his products. Today Overland has 16 store locations and a thriving internet business, all with a continued commitment to providing their customers with high-quality leather products. Overland uses Arqspin to provide their customers with interactive 360 spins of their purses, shoes and small leather accessories. I spoke with David Murphy, Overland's photographer, to find out how Arqspin sets Overland apart. 
Using Arqspin gives Overland's customers a more in-depth experience of the product and allows them to see what they're actually getting. "With traditional product photography you're lucky if you get a front, back, and side view" says David. In addition to providing more views of a product, 360 photography also provides a sense of movement. David believes that movement is not only more fun and visually attractive for customers, but also shows the overall shape of the product better. This enhanced sense of the product and its details gives customers more confidence when purchasing online.
Overland first discovered Arqspin when they were looking for an engaging way to showcase their products. Originally they wanted to show videos of products rotating on their website. While researching this, they found out about Arqspin. In addition to providing the 360 views that they were originally looking for, Arqspin allows their customers more interaction with their products. David loves how seamless the overall experience is. "Arqspin is easy to use, it loads quickly, operates smoothly and the user experience is consistent- even on mobile." He also loves the personalized service and technical expertise. 
Despite Arqspin's ease of use, David says that capturing good spins, just like taking good photographs, does take effort. It took some trial and error for him to arrive at his optimal spin set up: a Cannon 6D with a 70-200mm f/2.8 L series lens on a tripod. David captures his spins in the photography studio where he does the website and Amazon listing photos. David then uploads them to the Arqspin editor where he perfects each one before embedding them on the website. He has also had some genius solutions to a variety of technical problems. The biggest challenge was getting powerful, diffuse lighting onto the products, which he solved with 3 banks of 24 fluorescent bulbs. The next biggest challenge was spinning larger objects, like Overland's Traveler duffels. To deal with this, he extended the size of his Arqspin turntable by adding a large circle-cut piece of  white painted masonite.
Un-edited traveler duffel on extended Arqspin turntable
Edited traveler duffel on extended Arqspin turntable
Overland has made over 1,100 spins and counting! Incorporating spins in their website has enhanced their already robust product views. This provides their customers with a great feel for the product, and gives them more confidence when purchasing online. To see how Arqspin can boost your customer's confidence and make your website more engaging, check out our software plans
here.