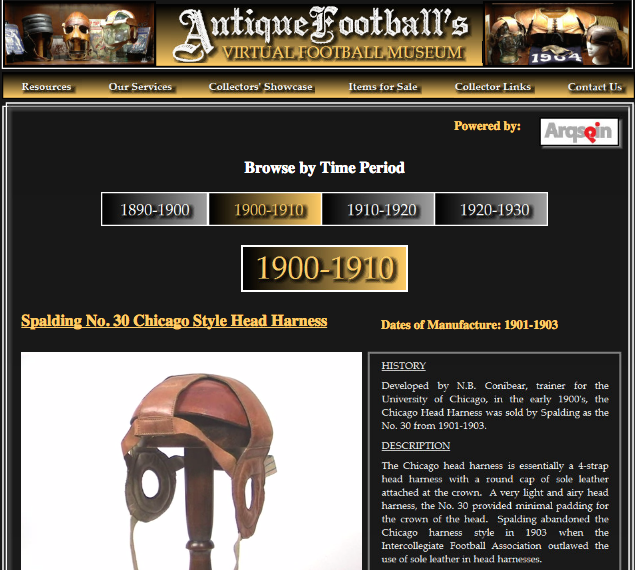 Fredericksburg, Virginia-based AntiqueFootball.com is a dream turned hobby turned business for owner Chris Hornung.
As a child, Chris dreamt of being an archaeologist, a football player, or an architect. After realizing that archaeology wasn't as glamorous as Harrison Ford led him to believe and that his athletic abilities weren't going to get him to the NFL, he chose architecture and ended up pursuing a civil engineering degree.
"I've been working in real estate development for the past 13 years, but never lost my passion for sports and history," says Chris. "Ten years ago, while searching for ideas for a mancave, I bought an old leather football helmet on eBay and was instantly hooked on collecting and researching artifacts of the game."
It wasn't long before Chris realized that there were very few resources available to collectors of vintage football relics. So he began to create his own digital databases of team photos, catalogs, articles, and eBay and auction house results to educate himself.
"What I ultimately found was that there is plenty of misinformation on the internet, and that the stories behind the artifacts were sometimes far more interesting than the relics themselves," says Chris. "As I looked for an outlet to share my research, AntiqueFootball.com was born. The mission is to provide accurate, unbiased research to vintage football equipment collectors and to share our passion for the humble beginnings of America's favorite pastime."
People who use his website are a mix of regular people who found something interesting, new collectors and researchers looking to learn more about football and early equipment, and older collectors that like to share their knowledge with others.
"Historically someone who found grampa's helmet in a trunk would either put it out at a yard sale, bring it to an antique store, or try to sell it on eBay," says Chris. "With my site they can learn what it is and get an idea of value and rarity. If they want help selling it from there, I can help increase the selling price by providing quality photography, detailed condition descriptions and provenance, or by finding advanced buyers."
While people collect for a variety of reasons, Chris says that most of them want to know what else is "out there," as well as display what they collect.
"I provide the research needed to make an informed decision prior to making a purchase, and a platform for collectors to share their collections with others but don't have the technical ability to do so," he says.
Chris also hopes to complete spins for other collectors looking to showcase their work.
"Arqspin's technology can revolutionize the way that collectors display their items. At least a dozen collectors have told me in the past that they hope to one day open a sports museum. However, that dream can be quickly extinguished when you calculate rent, utilities, and staffing a facility," says Chris. "With Arqspin, creating a virtual museum is relatively simple, and you don't have to worry about the cost of keeping the lights on."
A circia 1920 dog ear football helmet
Getting up and running was also a very quick process for Chris. Within two weeks of finding Arqspin, he had spins live on his site.
"I thought it would be an amazing application for creating a virtual museum. I contacted Samantha, ordered a turntable, and within 24 hours of it being delivered to my house I had created all of the spins on my site," says Chris.
Chris uses a MyStudio tabletop photo studio with a white fiberglass background and 5000k fluorescent lamps. His camera is a JVC Everio HD video camera. He also uses a 24″ Arqspin turntable, which he says may be bit large for his application, but gives him great flexibility to grow into future projects. It takes about 10 minutes to set up his studio, and 30 seconds to capture a spin. Uploading and rendering to Arqspin takes him less than 10 minutes.
"I recorded 18 spins at once and had all the spins created in less than 2 hours," says Chris. "In fact, the spins took about 1⁄4 the time it previously took me to create and correct still photos of my entire collection. It was one of the easiest user interfaces I've ever used and the end product far exceeded my expectations."
Chris posted the spins on AntiqueFootball.com less than a week ago and the response has been terrific.
"A user's ability to manipulate the spin gives the impression that they are holding it in front of them," says Chris. "3D spin technology truly showcases an artifact in ways that still photography cannot."