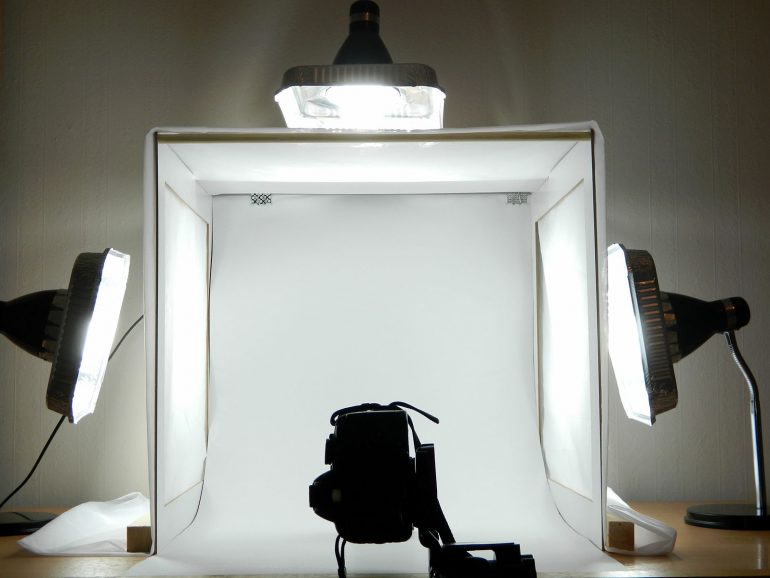 A huge question facing any ecommerce business is how to provide a high quality product experience to their customers online. After all, it's hard to sell a physical product when your customer can't get their hands on it.
This is where great product photography comes in. Although good product photography equipment is traditionally an expensive investment, there are cost-effective alternatives that make producing high quality photos simple and inexpensive. Here is a guide for how to cheaply and easily put together a product photography kit for your ecommerce business.
The Camera
The camera is the "bread and butter" of your product photography kit. Familiarity with a particular camera can make it simple to put together a setup that accounts for its specific strengths and weaknesses. When starting from scratch however, there are a few options that are ideal for product photos because of their high-resolution and versatile functionality.
DSLR
The DSLR camera is the standard when it comes to most types of photography. It is capable of producing the highest quality images, has the ability to change out lenses, and allows you to manually control many settings that are automated on lesser cameras. Of course, all of these benefits add to its price tag, making the DSLR a worthwhile but expensive investment for your product photography kit.
iPhone
When it comes to quality, newer iPhone camera photos can be nearly comparable to the quality of a basic DSLR shots. As recently as the iPhone 5, these cameras capture 8 megapixel images and are capable of recording 30 fps video. iPhones also offer some of the features of the DSLR, like interchangeable lenses and tripods, as we mentioned in our previous article on unique product photography tools. It's also important to note the iPhone's compatibility with a multitude of editing software, including Arqspin's cloud-based editing suite. All of this makes the iPhone a perfectly acceptable choice for a cost-conscious product photography setup.
The Stabilizing Stand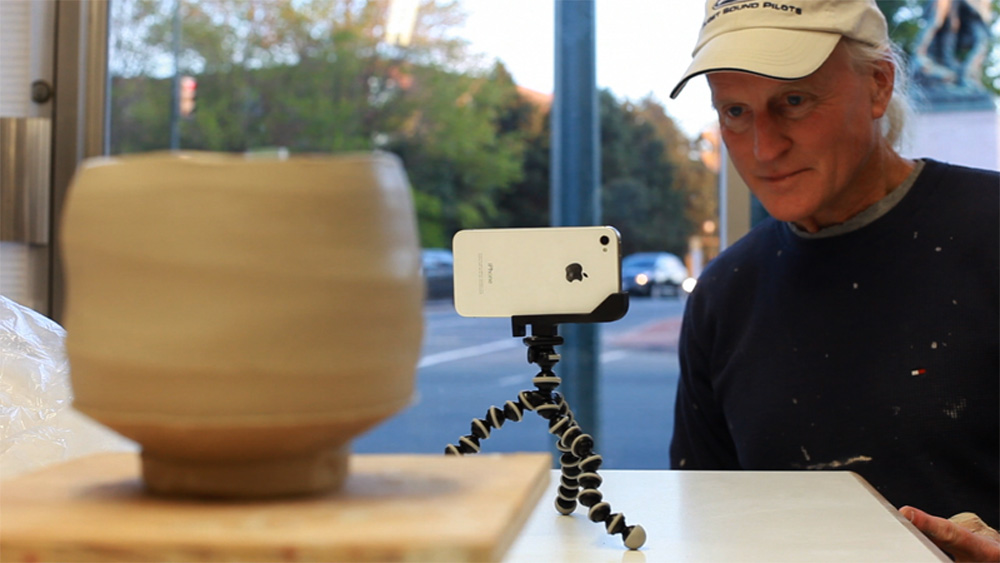 In order to achieve the best final still image, your camera needs a slow shutter speed to gather the appropriate amount of light. This presents a problem when a camera is held, because if a camera shifts during a slow shot the final image will come out blurry. In the case of a product video, this stabilization is necessary to maintain a consistent height and angle on the product over the course of a shot. A tripod is traditionally used to achieve a stable shot, but they are often the most expensive solution. Luckily, there are several functional and inexpensive options on the market.
Spiderpodium & Gorillapod
Both Spiderpodium and Gorillapod are available for as low as $20 and offer unique functionality that can benefit any product photography setup. Compatible with both smartphones and DSLR cameras, these devices can attach to a variety of different surfaces, making them an incredibly versatile tool to have in your product photography kit.
The Lighting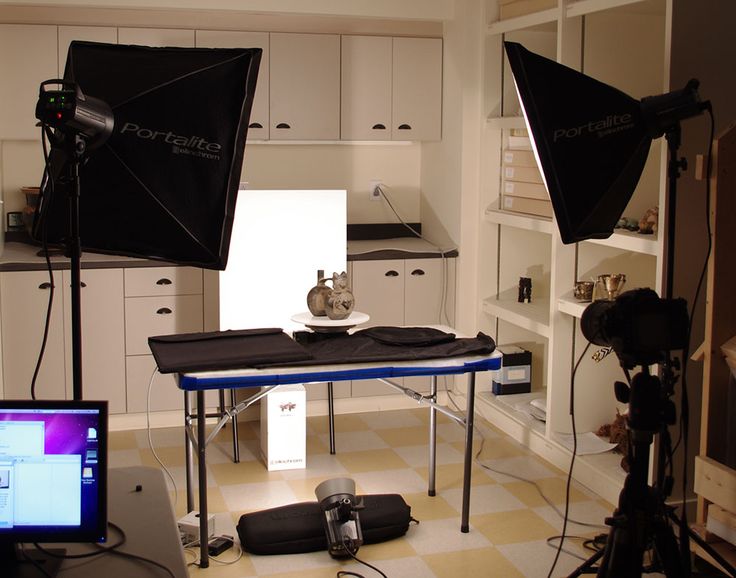 A good lighting setup is an essential part of capturing high-quality product photography. It can properly illuminate the intricacies of a product in a way that natural light cannot. As with all of the equipment listed in this article however, your lighting equipment is just one tool in your photography kit. This means that rather than getting the best lighting setup, all you need is the right lighting setup for your studio.
Studio Clamp Light Setup
There are countless different lights and enclosures to choose from. However, when on a budget, a simple setup of clamp lights, traditional light bulbs of moderate wattage, and a few sheets of inexpensive diffusion material can be used to easily create high quality product images and will cost well under $100.
There are many different characteristics of light bulbs depending on the type and manufacturer, a topic we've explored at length with our in-depth lighting post. Be sure to experiment to determine which types make your products look their best.
Arqbox
In place of a DIY lighting setup, Arqspin offers an all-in-one photography light tent called Arqbox. Arqbox's compact design evenly distributes light around any product and can even be paired with a product turntable for an immersive 360° spin of the product. The Arqbox comes complete with LED light strips, built-in light diffusion materials, and multiple capture points, making it a simple solution for your product photography setup.
The Backdrop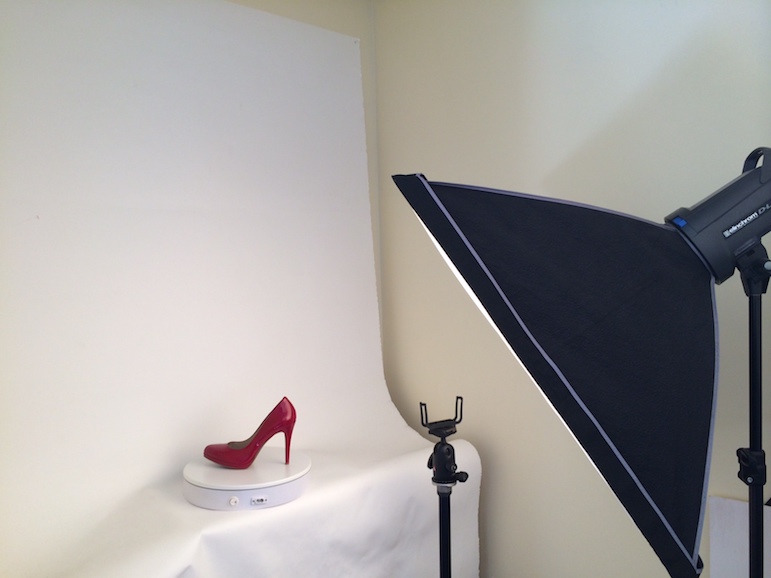 We've written before about how experimenting with different backgrounds in photography can help you creatively demonstrate a product's benefit. However, when it comes to ecommerce, a white backdrop is the standard.
A white backdrop is great for reflecting light around a product evenly, allowing you to simplify your lighting setup and effectively highlight your product's colors. Marketplaces such as Amazon also require white backdrops in product images, so it's a smart idea for any ecommerce platform to invest in one.
White Sweep Backdrop
The most popular solution for this backdrop is a white sweep, which allows photographers to create a seamless background behind their images. A sweep allows the backdrop to completely surround the product for an even final image, and can expedite the post-production process.
Most of these setups are relatively inexpensive and can easily be duplicated for smaller products with a lightweight white poster board over a 90° angle. For this latter solution, it's important to be mindful of any crease that may form in the board while shooting.
The Turntable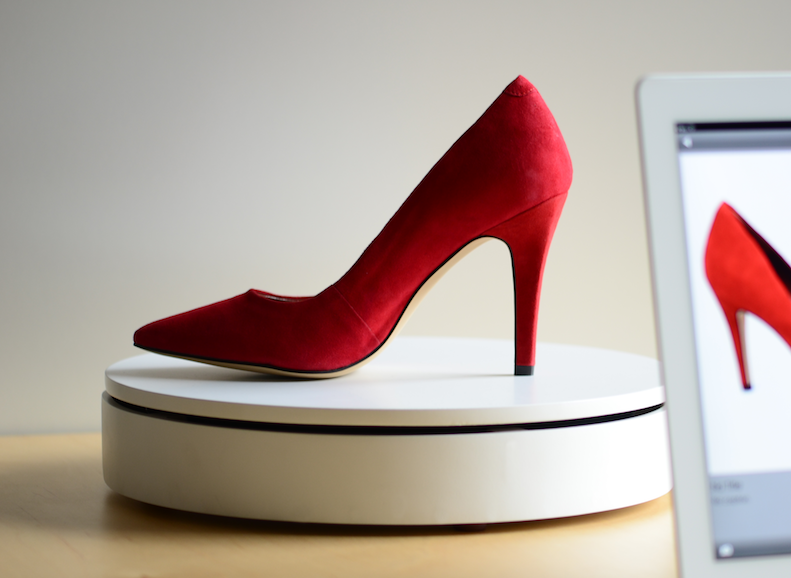 360° product spins are quickly becoming a popular choice for ecommerce sites. They've been proven to increase visitor engagement and provide the exact type of product experience that customers are missing while browsing online. In order to create these spins, your photo studio will need a turntable.
Many photography turntables require a connection to a computer and automated settings for their accompanying software in order to operate, but Arqspin offers a simplified alternative.
Arqspin Motorized Turntable
Arqspin offers a variety of motorized turntables for products of smaller sizes and weights. With Arqspin's 360° photography platform, it's possible to create high quality spins with any turntable. However, the Arqspin motorized turntable's seamless compatibility with this platform makes it simple to create, upload, and embed complex product spins in just one minute.
Get Started!
These fives pieces of equipment are all you'll need to get started promoting your products online. Even on a small budget, you'll find it incredibly easy to create professional quality product photos while saving your business money in the process.
For more information on product photography, follow us on Facebook and Twitter, visit our Blog, or get in touch!